About Us
Lawrence & Company College of Cosmetology, has been in business for almost 20 years. Lawrence & Company has successfully trained thousands of students in the cosmetology field. You can learn the art of professional hair styling and be trained and licensed within just one year. Lawrence & Company has two great courses, cosmetology and manicuring, as well as a special brush up course. Jobs in the cosmetology industry are readily available to qualified and licensed Cosmetologists. Call or e-mail to find out about YOUR career in the fast paced, exciting world of hair styling or manicuring. It's a great way to enjoy security and self-employment in the cosmetology industry.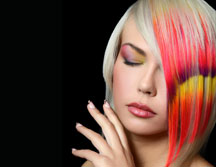 At Lawrence & Company College of Cosmetology, our prime objective is to offer training that prepares the successful student not only to acquire the knowledge and skills necessary to pass the California State Board Exam, but to be an asset in the profession of Cosmetology and to become a success in whatever area of the Cosmetology the student desires. In the process, our secondary objective is to maximize the development and personal growth of each student as a total person, to help each student discover his or her potential.
We play emphasis on how to be successful in the salon, and how to create the lifestyle that you desire. This means hard work, dedication, and practice on your part. The degree of success will depend on the effort you are willing to expend during the entire course of your training.
Mission Statement
It is the mission of Lawrence & Company College of Cosmetology, to provide an opportunity to achieve a quality cosmetology education that prepares the graduate for licensure and job entry-level skills.